Guess what friends???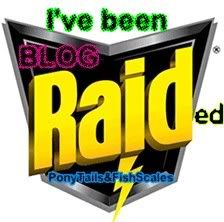 An awesome blogger named Tere over at
PonyTails and FishScales
has started a project where she raids other people's blogs and posts some examples of her favorites on her own blog, to help showcase all the awesome bloggers out there. Today, she picked my blog, hooray!
I love when bloggers do this, because it helps us all get to know other bloggers a little better, and really provides support. I may have to think of something similar to do as an occasional feature on my own blog. Tere is inspirational like that! She often posts cool craft how to's and yummy looking recipes. You should definitely check out her blog, and see who she will Raid next!
Thanks Tere for Raiding my blog!