The good news is, I finally created a button for Tall Tales from a Small Town!!! Check it out.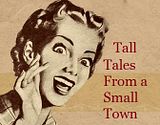 The bad news is, I do not know how to get the little scroll box to display the code below it. Every time I try to make one, it just shows the button instead of the code. I really want to share my button with everyone, can one of my blogger friends help me out?
UPDATE:
Thank you so so so much to Buffi and Julia for the help! They both helped me, and now you all can grab the button and put it on your blogs :) Thank you ladies, YOU ROCK!